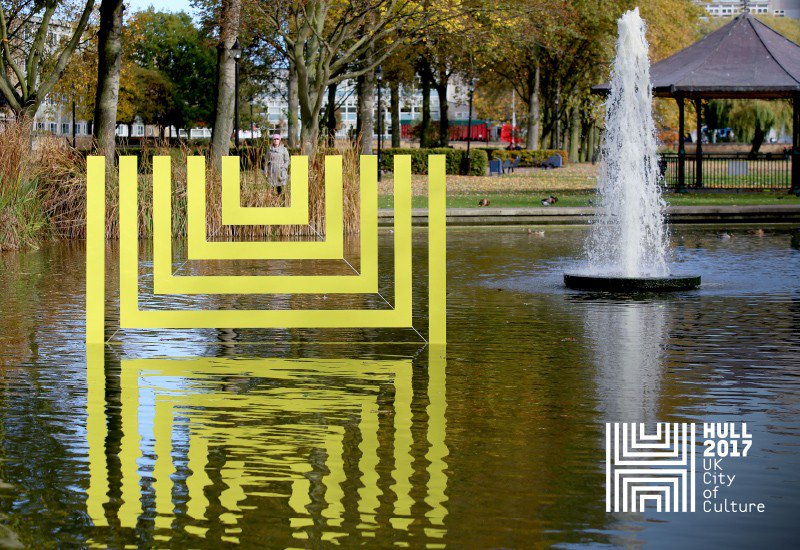 MONDAY
5 DEC 2016
1:53 PM
CITY ON THE HUMBER
The city of Hull has embarked on a perception-shifting programme through the new brand for its 2017 year as the UK's City of Culture. Amy Sandys reports on the place branding strategy
Nestled between Leeds to the west and the North Sea to the east, Hull, which gained city status in 1897, is not necessarily the first place associated with the word 'culture.' There is, perhaps, good reason. Once voted one of the worst places to live in the UK, Hull's city brand has long been insulted by its 'grey' architecture and 'dreary' aesthetics. Speaking to the Guardian, former UK deputy prime minister and Labour MP for Hull East, John Prescott, once described Hull as 'the biggest working-class town in the country.' A nod to Hull's industrial past and tradition of dock workers and fishermen, its association with blue collar work is one long permeating the UK media. Its location doesn't help either; on the north bank of the Humber estuary, Hull has suffered by being somewhat isolated from other major UK hubs.
Yet, aside from culinary delicacies such as the paprika and salt mixture affectionately known as 'chip spice,' or the infamous 'pattie butties' – consisting of deep fried mashed potato, onion and sage – the city offers much more than initial reports might suggest.
After being awarded the UK City of Culture 2017 accolade, in a decision which surprised locals as well as critics from around the country, Hull has embarked upon on an extensive programme of cultural highlights, arts-based experiences and celebrations of public space. This unexpected recognition has, says Gavin Shore, creative director at brand development agency Jaywing, given Hull's place brand the lease of life it needed to shine amidst a UK culture scene dominated by larger cities such as London, Manchester and Edinburgh. Phil Batty, director of marketing, communities and legacy for Hull 2017, agrees. "Hull is often overlooked, but there is more to it than meets the eye," he says. "We want the UK and wider world to take notice. Hull City of Culture 2017 presents us with the perfect opportunity to celebrate the cultural delights of the city."
Yet says Shore, with the City of Culture recognition a certain amount of caution was exercised. Hull's small, centralised population ensured a 'top- down' place brand strategy would not have achieved a big impact. "We went on quite a big journey with Hull," says Shore. "We did our own research before, but we went on a journey with the people to understand the character of Hull, and make sure that while we actually design a brand for the UK but it feels 'of ' Hull. And there were a lot of idiosyncrasies that came through in the personality of Hull."
Shore adds, "[Jaywing] was given two things that the new identity needed to do. One was turn the city from something that feels quite grey into a city of technicolour." And, in a contrast to its less than favourable reviews, Hull has contributed a veritable colour palette of important British personalities over the past few centuries, as well as a distinct literary heritage of which it can be proud.
Contemporary poet Simon Armitage and former poet laureate Andrew Motion both hail from the city, as does 17th century metaphysical poet and politician, Andrew Marvell. One of England's most celebrated poets of the 20th century, Philip Larkin, also made Hull his adopted home town after spending 30 years employed as its university's librarian. Leader of the slave trade eradication movement, William Wilberforce, was born in Hull in 1759 and, just under 150 years later, it was home to the first woman to complete a solo flight from England to Australia, Amy Johnson. Hull's positive cultural contribution is often forgotten in the wider literary, musical and technological landscape of the UK. Communicating the unknown thus informs the Hull 2017 brand. Shore says, "The other aim was to create an identity that wasn't too comfortable."
This eclectic mix of individuals making their mark on the city is reflected in its equally as eclectic brand strategy. Its diverse individuals and global connections are to be celebrated throughout a 365- day programme, divided into four parts to coincide with each of the four seasons. The first season, 'Made in Hull,' runs from January to March. Celebrating the past 70 years of Hull, from bombing raids in the second world war to its commendation as the UK City of Culture, 'Made in Hull' will celebrate local and northern creative talent, as well as using the city's buildings to display live performance and moving images. CEO and director of Hull 2017, Martin Green, says, "Hull has always had a unique cultural voice, and in 2017 it will roar. The spirit, the stories and the talent of this city have inspired this national year of celebration. Hull 2017 draws on this city's distinctiveness and the ambition and dynamism of the north, while offering an opportunity to reflect on the nation as a whole."
Such has the enthusiasm been behind Hull 2017's attempt to deliver a detailed programme that it surpassed the initial £18m fundraising target needed to deliver a full year's worth of content. The extra funds mean more investment can be diverted to supporting volunteers behind the programme's delivery, as well as encouraging 60,000 schoolchildren from around the city to participate. Green says, "It's a massive vote of confidence in Hull and supports the ambition to use culture to transform lives and further raise the city's profile as place to visit, study, invest in and do business with."
However, while integral to informing the city's sense of place, Hull's heritage and maritime associations are aspects of the city on which creative brand consultancy, Jaywing, is careful not to dwell. Creative director Gavin Shore says, "It's really easy to fall into a trap with any city brand, to hone in on its heritage and key landmarks. Obviously, the past is the past, but there are certain bits of the past that are quite divisive. That goes more for landmarks. We found that the Humber Bridge and the Deep [Hull's aquarium] were truly divisive." And, says Shore, this feedback led Jaywing to develop a place brand strategy without dwelling on the city's past. He adds, "What we wanted to do was create a future for Hull."
And create a future they have. While many aspects of the City of Culture brand focus on the city's contribution to arts and heritage, both Hull 2017 and Jaywing use Hull's past to inform the city's place identity for future generations. Shore says Jaywing approached this task through, "A 3D living and breathing brand that takes Hull forward." Highlighting elements of Hull's oft-overlooked natural beauty is something that was part of the Hull 2017 place brand's foundations from the beginning. Shore adds, "There are two things that we tried to draw into the identity that really came from it being a nod to the narrative of the past, but while creating a narrative for the future. One was the unique light of Hull. It is on the east coast and the fact that as the sun rises it gets unique qualities of light; we wanted that to come across in the colour." He says, "The other one was reflection being really important to us, the idea of that reflective quality where land meets water. We ended up with a mark and an identity that if you take the H in and of itself, is reflective." So relevant to the city experience Jaywing and Hull 2017 were communicating that the concept developed into a real-life 3D brand experience. Shore explains, "One of the first physical PR stunts was creating a 3D Hull and sitting it on water. Ultimately that creates the mark of Hull, or the H of the city of culture brand."
Despite using bold colours and its basis on a jovial theme, the Hull 2017 branding strategy is careful not to discount the unique impact of Hull's residents. Its tagline is 'Everyone back to ours,' fuelling the sense of community which Jaywing hopes to underpin in the project. A rigorous consultation process, encompassing everyone from local business owners to schoolchildren, retains Hull's sense of community throughout the place brand process. Shore says, "The people of Hull feel that culture is so far away from them, and what they wanted to feel was the direct impact of culture – commercially, will it help them? They wanted to feel the benefit of [the City of Culture] so that's something that the project has always known it can't do: it can't feel too elitist, and that was echoed by everyone."
But, as well as attracting outward investment and higher levels of tourism, Hull's revamped place brand will benefit residents. Shore says Jaywing ran three workshops with different stakeholders before taking the brand to the streets. With a complex and diverse city centre, the difference in population and demographics meant Jaywing's approach had to be adaptable. The strategy includes the city's different communities to help them understand what the City of Culture year would mean to them.
Hull City Council does not intend for the benefits associated with the city's 2017 accolade to end in 2018. The Hull 2017 city brand is integrated into a broader theme of evolution and improvement, which sees the cultural programme inform future projections for the city. As the Hull City Council website says, "The evolving city plan aims to bring the whole community together to make Hull a place that is brimming with culture, enterprise and opportunity; a place where people want to live, work, play, study and do business; a city where those in the greatest need are valued and supported; a place that people will be proud to call home."
One of the most pressing challenges for the teams involved in the Hull City of Culture 2017 place branding effort may well be sustaining the momentum created through its awards. Shore says, "Part of the mission for us was how we bring to life Hull's story, and that's what we've tried to do with the brand. It didn't just wash over you, it really grabs you and drags you in. We feel that by doing that, we fully captured the essence of Hull."    
---
Peer review
Lee Boyce-Squire, developer, Tangent Graphic
Looking through the content on the Hull 2017 website, it appears to have a clear vision and comprehensive brand strategy with clearly outlined objectives – an essential starting point in the practice of city branding.
I've never been to Hull and in all honesty, when I thought about the city I instantly thought, "Dull?" With that in mind, the decision to adopt a vibrant and diverse palette seems a logical, but not entirely surprising choice. Instantly, the identity forces me to reconsider my preconceptions and therefore – from the standpoint of positioning and challenging perception – it's a job well done.
That said, in certain applications it feels like the volume has been turned up too high, and could be in danger of over compensating. For that reason, I look forward to seeing if and how it develops or adapts throughout 2017. My advice would be: apply more consideration and restraint to the daring colour combinations, keep having fun with the marque and its structure and most importantly, introduce evidence showcasing the UK City of Culture in action.
A noteworthy point is the immediate impact being labelled 'UK City of Culture' had on the city. The city's strategic plan outlines a number of nearly immediate positive economic and social responses. These appear to have been fully embraced and have had an equally positive impact on the energetic and ambitious objectives the city has for the following years.
The strategic plan says, "The activities and impact of the year itself are to be seen as a milestone and a catalyst, but not the end of the journey." This comment fills me with confidence, the strategy aims to secure and positively impact the city's future. Only by outlining its ambition and taking this future into consideration when developing the new brand will it be achieved. I look forward to seeing how Hull's identity develops through 2017 and beyond, which it surely will.