WEDNESDAY
17 FEB 2016
3:11 PM
SKILLS IN SCHOOLS
Britain's digital skills gap will affect the creative industries unless students understand and upskill for careers in digital and communications. Brittany Golob reports from a Digital Day event.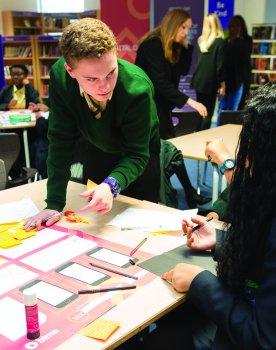 Challenge:
Over 1.46 million people are employed by digital companies in the UK with one million advertised for in 2014 alone, according to Tech City – the association uniting London's digital community. Yet, according to BIMA, the British Interactive Media Association, the trade body representing digital in the UK, only 41% of students are aware of the variety of professional opportunities afforded by the digital industry.
There is an even lower understanding of the industry itself – at 28% – that proves the digital skills gap is a critical problem. Britain's digital industry will rely on young people with creative and technological skills to increase growth and maintain its strong reputation as among the world's best. However, 95% of British digital companies said they were held back by unsatisfactory talent available for recruitment. That shortage will result in an estimated loss of £445m over the next two years, according to BIMA.
Bridget Beale, MD of BIMA says, "The findings of BIMA's research survey highlight how much of a problem the digital skills gap has now become, with businesses unable to find the right people with the right skills for the digital roles they have available. The UK has established itself at the forefront of digital transformation and innovation yet we could see a huge missed opportunity to build on this unless we see more digitally skilled people entering the industry."
Thus, BIMA has teamed up with digital and creative industries across Britain for the past three years to build awareness of digital careers among students.
Strategy:
The programme, called Digital Day, or D-Day, pairs an agency with a school so that real people who have built careers in the industry can share knowledge and experiences with students. At one school in north London, the City of London Academy, Islington, a stone's throw from Old Street, the heart of Britain's digital economy, students from ICT, computer sciences, arts and design and media studies courses came together to hear from digital agency Amaze.
The day was structured similarly at each of the participating 106 schools. Every school tuned into a live webcast with executive creative director of OgilvyOne, Rory Sutherland first thing. Sutherland explored the ways in which digital – as an abstract concept – can create tangible solutions to the problems that plague society, or even create a solution for a single company or sector. He also highlighted the fact that digital careers are open to more than those gifted with technology. There are roles for the daydreamers and inventors and artists, alike. "Good technology," he says, "needs to be married to good design and good psychology."
Following that, students were treated to a presentation by their partner agency. Nat Gross, CEO of Amaze, shared with the students in Islington that problem-solving is an essential skill in digital. She also impressed upon them the variety of opportunities in creative as well as the breadth of the industry itself. "Most of the jobs that people do now in London didn't really exist 20 years ago," she says. By studying something that will be relevant in 10 or 20 years, she advises, students can future-proof their careers.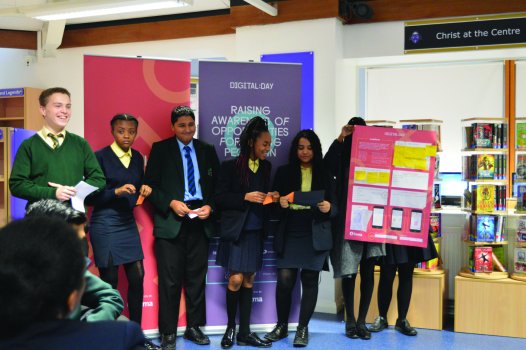 Following that, the rest of the day was dedicated to a group activity that allowed students to experience first-hand the types of roles available in the industry. Groups had the choice to develop an app for Vodafone customers, a mobile savings platform on behalf of Standard Chartered or a digital campaign for Sony Music's up-and-coming artists.
The seven groups at the City of London Academy then presented their work to their peers. The presentations were designed to replicate the pitch process and fellow students voted on their preferred work from each category. The best of each example then went into the national judging pool.
Judges from different backgrounds in digital communications will select the three best entries and choose a grand prix winner – all of whom are eligible for prizes like interactive visits to some of Britain's most prominent tech and digital companies.
Results:
The lucky prize winners are only one set of beneficiaries of Digital Day. The day is geared toward building awareness about the digital industry. And for the third consecutive year, it did just that. After Digital Day in late 2014, 89% of participants said they were likely to consider a digital career. That stands in stark contrast to the mere 41% of whom who said the same before the day's event.
Sarah Matthews, group marketing coordinator at Amaze, says digital agencies need recruits with relevant skills that are not limited only to coding or design. "I think it's incredibly important. I wish I could be this age and have somebody tell me these things. I had no idea what Amaze really did until I got there."
The benefits are obvious from an industry standpoint; more kids with more skills equals better recruits and better work. But for the other side of the equation, the educational-policymakers, the digital skills gap might not be a top priority. The Go.On foundation is one of the many encouraging people young and old to learn digital skills. It works to influence policymakers and high-level educators, among others, to improve digital skills in the UK. A 2015 House of Lords report called 'Make or Break: The UK's Digital Future' urged the naming of digital as a core subject at school.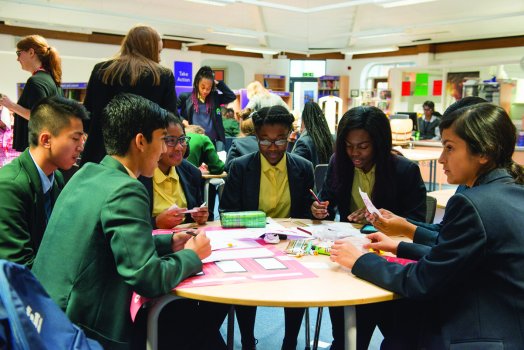 Until the changes take hold at the governmental level, though, it is up to schools and third parties to ensure students are aware of the opportunities available to them in all career paths. Another factor is that digital careers develop at a significant speed, making careers counselling in this area challenging.
Sonia Jacob, vice principal of the City of London Academy, Islington, attended Digital Day. She says, "I'm conscious of the fact that, as an Islington school, we've got Silicon Roundabout right on our doorstep, but very few of our students will be aware about the technology industry, the full range of jobs and how creative a job in that industry could be. We were really interested in hosting a day to raise their awareness and their aspiration around careers in the digital industry." Jacob adds, "The industry actually needs future talent and hopefully this kind of collaboration between schools and industry will enable that match to be made between the sector and their future workforce."