MONDAY
30 NOV 2015
4:33 PM
PEOPLE'S CARBON
After a scandal about its CO2 emissions that broke worldwide, Volkswagen's brand has sustained serious damage. Can the auto leader rebuild trust and redefine its corporate culture? Brittany Golob investigates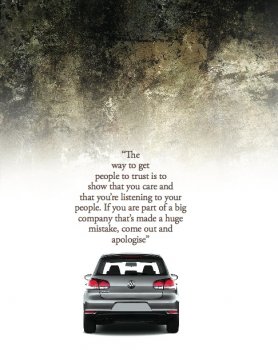 In 1947, Dutch importer Ben Pon was visiting the Volkswagen factory in Germany. He spotted a modified vehicle created by VW employees to ease transportation around the facility. He transformed that workhorse into the VW Transporter camper van. Not only was it useful for industry, it became a symbol for the American hippie movement in the 1960s. The van lives on today as a design icon and symbol of VW's history of innovation. The company has always reaped the benefits of the ingenuity of its workforce and pushed the bounds of popular thinking about automobiles.
And, in light of the recent emissions scandal, that might be just the thing that will save VW.
The VW brand is actually comprised of two entities, the corporate brand, also known as Volkswagen Group which owns 12 sub-brands including Audi, Skoda, Porsche, Audi; and Volkswagen Passenger Cars and Volkswagen Commercial Vehicles. The United States Environmental Protection Agency (EPA) in California issued a release on 18 September stating four-cylinder Volkswagen and Audi brand diesel vehicles, "Include software that circumvents EPA emissions standards for certain air pollutants."
The fall spelled disaster for the once-beloved brand. YouGov, which monitors 1,000 brands every day, found Volkswagen – the consumer-facing brand – to be in the top 40 brands in the UK and was the top-ranked car brand. It is 35th in Interbrand's 2015 'Best Global Brands' ranking and 45th in the UK in Siegel+Gale's 2015 'Global Brand Simplicity Index.'
Now, the numbers are dire. In the UK, YouGov has recorded a fall from +30 to -19 – a drop on par with that of BP after Deepwater Horizon or British banks in 2008 – in the rating asking if people would feel proud to work at VW. Effectively, an examination of the company's employer brand, the shocking 49 point plummet has shifted the perception of VW in the minds of British consumers and will force the company to reevaluate its strategy in order to recover.
Olive Rowe, director of reputation research at YoGov, says it typically takes a business three to four years to recover from this kind of reputational disaster. Rowe says, "Time is a great healer. But all the companies that have got their scores back have embraced the issue and taken tangible steps to improve it. It's not just communication, it's behavioural change and it may even be cultural change as well." Others agree that a change in culture is just what the doctor ordered for the ailing brand.
VW will have to address audiences as varied as the general public, its own shareholders, the internal audience, its suppliers, its franchisees and their employees and governmental regulators throughout the process. Alison Esse, co-founder and director of culture change consultancy the Storytellers, says change should start with the leadership team, "If they don't trust their leaders, then people are not going to embrace change in quite the same way than if they do trust their leaders."
Swiftly following that fateful September day, Volkswagen Group CEO Martin Winterkorn resigned, leaving former Porsche CEO Matthias Müller in the company's top spot. A slew of resignations followed, including one from the director of corporate communications. A change in leadership is difficult for any company, let alone one that is already in a state of uncertainty. Esse warns that Müller has to act soon, "That new leader needs to be very swift to tell a very compelling narrative of what his ambition for the future is and how they're going to get there. That narrative needs to be embedded into the workforce through a strategic narrative. If there is a vacuum where there is nothing being communicated, people will make up their own story and it's quite likely to be negative."
Martin Lucas, partner at culture change company Cultural Gravity agrees. In the U.S., presidents are infamously beholden to the 'first hundred days' theory, which, traditionally and informally gives the president about three months to put his plans in action for the next four years. After that time, he will be rendered ineffectual by numerous processes. Though informal, the theory holds true for business leaders as well. Lucas says VW's problem is with its culture. Leaders have lost trust and to regain it, they need to redefine the organisation's values and culture. "In my opinion, the world just needs a bit of honesty," Lucas adds. "The way to get people to trust is to show that you care and that you're listening to your people. If you are part of a big company that's made a huge mistake, come out and apologise." VW should humanise its communications to recover from the initial loss of trust in the brand.
VW could not be reached directly for comment. In a statement, the Supervisory Board looking into CO2 emissions, said on 3 November, "The Supervisory Board and the special committee set up for the purpose of clarification will meet in the very near future to consult on further measures and consequences. The Supervisory Board will continue to ensure swift and meticulous clarification. In this regard, the latest findings must be an incentive for the Supervisory Board and the Board of Management to do their utmost to resolve such irregularities and rebuild trust."
Complicating Volkswagen's position is the fact that its drivers act as informal brand ambassadors. After Deepwater Horizon, that was no cause for explanation to a BP consumer's peers, it was an invisible purchase. During the banking crisis, RBS or Lloyds or Barclays customers didn't have to walk around holding their debit cards for all to see. But VW and Audi drivers are forced to show their – perhaps former – allegiances every time they get into their cars.
Rowe says, though, that the public reaction to scandals such as these is predictable. But the road ahead is rocky still, for Volkswagen. He says, "You get these aftershocks. It happens to all the companies. If something comes up or a fine gets issued, it all gets dredged up again. The path back will not be straight or smooth but if they do the right things they can convince people that their purpose and values are right and their behaviours are right and they are communicating it in the right way. That will be their road to salvation."
The auto industry itself presents additional challenges to VW. The 2015 Edelman Trust Barometer said just 52% of people in the UK trust in business to do the right thing and experts says the public may think other manufacturers are guilty as well.
"There is going to be a huge challenge for them going forward because it's all about the trust issue and there's been a really fundamental breach in trust. Deliberately misleading tests and consumers goes right against the heart of the brand. It has caused immeasurable damage."
Danny Rughoobeer, MD of Red Marlin, a PR company specialising in the auto industry, says VW's made a mistake in not apologising early – an oft- suggested crisis comms tactic. He adds, "There is going to be a huge challenge for them going forward because it's all about the trust issue and there's been a really fundamental breach in trust. Deliberately misleading tests and consumers goes right against the heart of the brand. It has caused immeasurable damage."
Franchisees, which often invest huge sums in the brand, should be communicated with to ensure they can continue to act as proponents for the brand, Rughoobeer suggests. Esse agrees saying VW should prioritise this audience as franchises are the interface between the consumer and the brand. This would require VW's assurance that the brand in which franchisees have invested is recovering. Rughoobeer adds that suppliers should be reassured as well.
Yet the business models within the industry may offer a failsafe for the Volkswagen Group. Consumers are generally unaware of its ownership of many sub-brands. Only VW and Audi models have been implicated in the scandal, thus Rughoobeer says the group could survive on sales of its other brands.
Volkswagen will also have to look into its testing and engineering methods to eliminate the deceptive software. Esse says this could lead to an industry-wide impact on trust in consumer and corporate-owned diesel vehicles. James Jameson, VP of product strategy at risk management software company Rivo says environmental health and safety and will also have to be addressed. "Environmental health and safety goes hand-in-hand with reputation, and crucially, a company's reputation goes hand-in-hand with its bottom line," he adds.
To rebuild trust after having duped regulators, he suggests VW make its processes more transparent, "The crisis will push VW towards making a more transparent framework and approach to managing product stewardship, environmental risk and also within that probably health and safety. VW needs to take proactive steps to change how risk is understood, managed and reported on all levels of the organisation."
But VW could also hark back to its roots in engineering excellence and technological advancement. Just like Pon did in the 1940s, modern employees could be called upon to make positive change. GM of Lewis PR's Belgian outpost, Richard Verbeek, says VW should focus on innovation as a means of rebuilding trust and engaging the internal audience through behavioural change, "Everybody is interested in electric cars, most people would like to own a Tesla and VW's history is very much in building the 'people's car' so this is the way I would take it – let's try to build the new people's car, an electric car that is affordable for most people."
Throughout the post-WWII period, the people's car defined the VW brand. Verbeek suggests that VW could adapt to its changed reality. If it is able to reinvent its brand purpose, Volkswagen could not only rebuild trust and improve its value and sustainability in the future, but ensure a long-term, appealing employer brand drawing in future generations of engineering talent to perpetuate its longstanding ingenuity.