TUESDAY
22 DEC 2020
2:20 PM
BANKING ON CHANGE: A LOOK AT THE SBER INVESTOR DAY
There's never been an investor presentation quite like it. Russian banking and technology brand Sber's unprecedented use of virtual and augmented reality to engage with its investors has elevated stakeholder communications to a new level.
Sber's "Strategy 2023" Investor Day on November 30th had some big messages to convey to its investors who are spread across the world - the company is listed both on the Moscow and London Stock Exchanges. And given the strictures of Coronavirus lockdowns, the presentation had to be entirely virtual.
Sberbank, Russia's largest retail bank, is undergoing a root and branch reinvention. In addition to everyday banking, it is launching an eco-system of digital services spanning entertainment, e-commerce, taxi hailing and restaurant booking apps, mobile contracts, digital devices and more.   
Explaining such a huge shift to investors and updating them on the progress of this transformation would require an eye-catching and outstanding presentation. As Vladislav Kreynin, senior vice president and head of Sber's marketing and communications department, explains: "We wanted to create a completely new format for investor days that would build this 'Wow!' experience, with images of landscapes and architecture from a future that we are designing and constructing today with Sber."
This innovative approach to investor communications immediately boosted the company's stock, says Kreynin. "That created a lot of value for us and during the first day of our presentation, our stock rose 6% plus on the London Stock Exchange and now it is 20% up. Of course, that is also down to the strong strategy we unveiled. But it reflects the powerful format we chose for the Investor Day."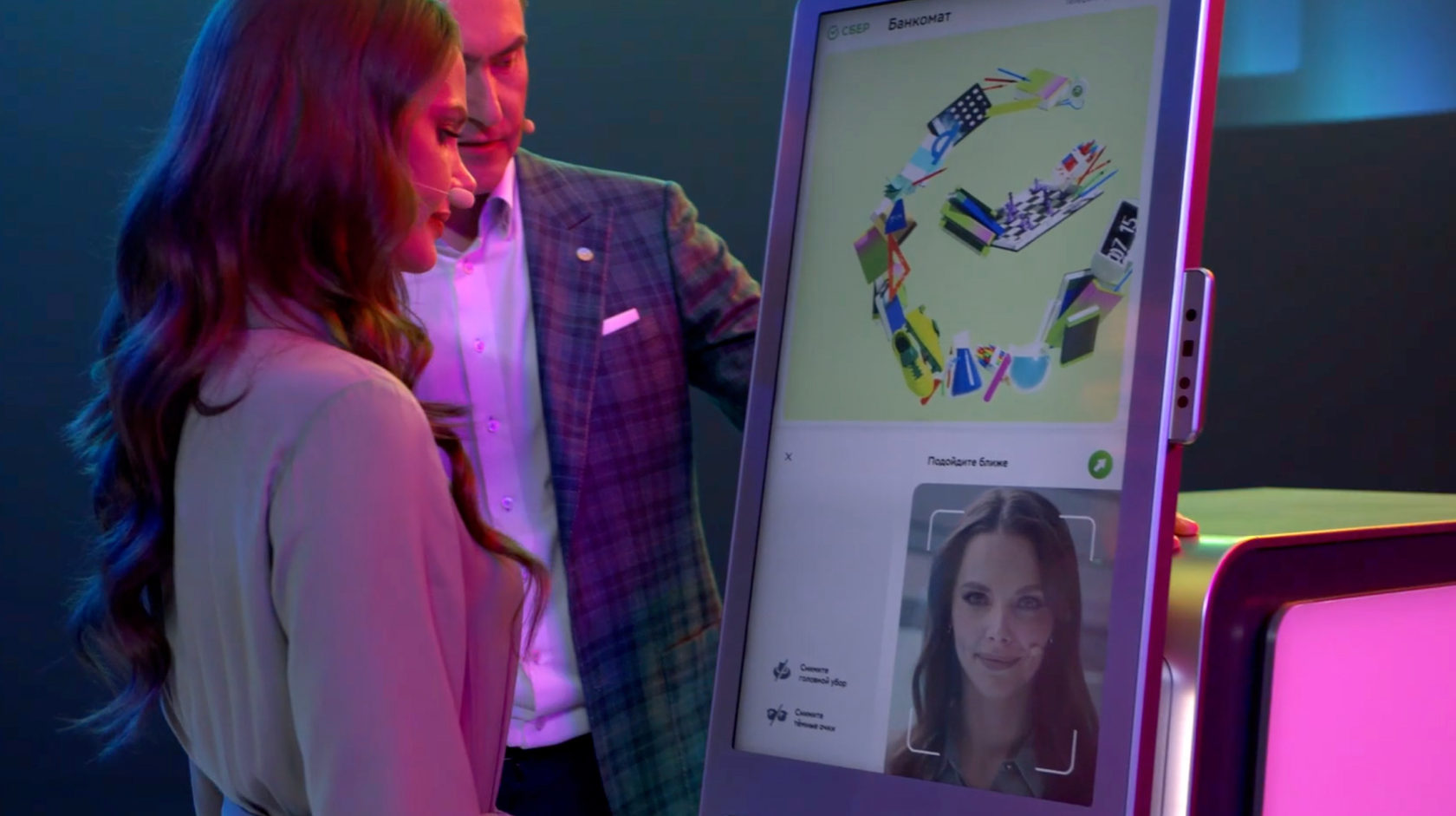 The design of the presentation reflects Sber's daring strategic vision. Sber aims to become a Russian version of Apple or Amazon, with the kind of reach and digital coverage achieved by China's mega technology offerings such as Tencent and Alibaba.
The investor presentation had to do justice to this ambition. Company executives including chief executive Herman Gref and chief technology officer David Rafalovsky are centre-stage in the video, presenting their vision of the brand's future. They stand in front of a fast-changing array of virtual reality backgrounds modelled on aspects of the company's futuristic corporate headquarters. One moment the background shows a meeting area, then changes to an atrium, an office scene or a bank of screens. As the executives talk through the three-year strategy and update the audience on progress made, their words are highlighted on screen through augmented reality graphics. The AR effect also allows them to depict charts, data, statistics and strategic goals clearly on screen.
Where other virtual investor day presentations might use a split screen with a PowerPoint presentation and a seated executive, the Sber approach lifts the communication out of the everyday and gives it a driving narrative, telling a story of technological advancement.
Production of the event was handled in-house by the dedicated Sber Virtual Reality production studio using cutting-edge technologies such as the Unreal Engine 3D creation platform. This allowed for real-time display of the backgrounds behind the speakers, which changed following the movement of the camera, creating a three-dimensional effect. 
Over 1.3 million people viewed the presentation online in countries including the US, UK and France, as well as Russia. The broadcast was available in Russian and English and was shown on Russian business TV channels.
The Investor Day is part of a new approach to presentations by Sber, which is looking to extend this approach into to other areas of stakeholder communications such as presentations to regulators and other audiences.
"We have the production group and team that work with us, the same director and director of photography, the same graphics department, they know how to do our events, and after the Investor Day, we are in the process of building the standard for the industry of how to make events with these effects," says Kreynin.
Sber had used a similar approach for Sberconf, a video presentation for the public explaining Sber's bold new direction that also used sophisticated 3D graphics. The video featured company executives explaining the new range of technology products to celebrities such as 70s movie star Mikhail Boyarsky and pop star Dima Bilan. The aim was to create a presentation to outdo those held by Apple or Google as they launch new products.
As Kreynin explains: "Sberconf was not a classical conference with speakers and slides and that was the real challenge. It was a mixture of a TV series and events with a product presentation, so it was a completely new format. We provided audiences with sketches rather than a classical presentation." The video attracted some 12 million viewers, he says, after being heavily promoted through social media.
The transformation of Sber's communications is an example of the way new formats are vital to signalling a change of corporate direction.
Re-invention is becoming a watchword in the banking industry, which is facing disruption from technology with the rise of start-up financial apps and payment systems. Along with an over-supply of traditional banking services worldwide, margins are falling. Earlier in the decade, Sberbank embarked on an international expansion strategy, though the reality is that retail banking is becoming less profitable as time passes. In Russia, banking margins are between 4 – 5.5%, while in Europe they have fallen as low as 2%. Russia has also been hit by economic sanctions from the West which makes European expansion more challenging.
Since 2017, the company has pursued a strategy of using its close relationships with 97 million Russian customers to offer additional technology services. In September, the company dropped the bank part of its name and simply became Sber, a pre-fix which is attached to a range of products in its portfolio. At the same time, it unveiled a new logo, an incomplete circle with a tick inside that is used across its multiple businesses. This brand update was created with insights from global brand consultancy Fitch & Landor and a number of local agencies.
To explain the rationale behind its new direction, Sber recently launched a film showing how traditional banking was on the road to becoming an unexciting utility, disrupted by technology, but that Sber's response to changing market conditions would secure its future. As Kreynin explains: "We created a short movie that shows a Black Swan as the hero of this year that wants to kill classical banks because they are not good enough in the new era, because they do not change fast enough and because people in their daily lives do not want banks as their core service. Banks are becoming invisible, they are becoming commodities and infrastructure. Invisible banking is one of the trends."
The Black Swan film aims to show that Sber, in contrast to other banks, is building a digital eco-system which will create a business that is fit for the future. The development of the eco-system is built on a series of acquisitions in the technology field. Sber has ended a previous partnership with Russia's internet giant Yandex and announced a $2bn investment in building its own digital eco-system.
The company has a significant ecommerce business called SberMarket. This was renamed from an acquisition called Instamart. Kreynin says it took the service seven years to reach its first million orders, but with the relaunch under the Sber brand and the boost to ecommerce from pandemic lockdowns, it achieved another million orders in 70 days. It is now fulfilling one million orders a month. "Without a well-known brand like Sber behind it, that would be impossible. We are launching a new brand for Russia but with a very strong basis," he says. 
This autumn, Sber has announced the launch of a range of new gadgets such as Sberbox, a TV streaming device and a smart speaker called Sber Portal which has a screen that responds to voice and gestures. There is the launch of a smart assistant with three different personalities, attempting to build more of an emotional link with users. Sber has also acquired the Okko streaming service, which has about a quarter of the Russian streaming market.
Given the breadth and depth of Sber's new direction, creating a presentation for investors to clearly delineate and narrate the new strategy is vital. The investor day was a hit with investors, says Kreynin. "Investors thought this format and detailed preparation showed respect for their needs. Their feedback was 'thanks for the respect and thanks for the attitude'," he says.
He adds that partners and suppliers have written to Sber asking for information on how to improve their own investor days and create "such a brilliant format." In future, there could be many investor presentations which owe a debt to Sber's pioneering approach.
RECENT ARTICLES BY COMMUNICATE MAGAZINE