THURSDAY
22 APR 2021
1:30 PM
CATERPILLAR CAKE COMMUNICATIONS: COLIN VS. CUTHBERT
The chocolate caterpillar cake rivalry between Colin and Cuthbert has been reignited this week after Marks & Spencer claimed Aldi broke infringement laws. Aldi immediately took to social media in a conversational comms strategy that won consumer support and achieved impressive external engagement.
Aldi takes to social media comms
Aldi UK is very vocal on social media, popular for its colloquial and conversational tone when interacting with customers and commenting on popular news. When Marks & Spencer launched legal action against Aldi claiming infringement of its trademark 'Colin the Caterpillar' on 15 April, Aldi took the issue straight to twitter.

The first tweet received 75k likes and 10k shares. Riding on the back of this impressive engagement, Aldi began tweeting regularly about the war of the caterpillars.
The supermarket brand tweeted gifs and replied to big brands chiming in on the conversation throughout the weekend. In one tweet, Aldi tagged television personality, Judge Rinder, "How's your diary looking? Asking for a friend. #FreeCuthbert"
The greatest success in Aldi's comms strategy was its use of the hashtag #FreeCuthbert. Used in the first and following tweets, the hashtag was picked up by popular brands such as BrewDog, tweeting "Cuthbert the Caterpale Ale? #FreeCuthbert" Monzo bank posted an image of 'Cuthbert's legal fund' and asking "Ok, who's chipping in? #FreeCuthbert."
As the communication from Aldi became more creative, the engagement online continued to increase. The hashtag meant consumers could post, read and share their own views and images to join the caterpillar conversation.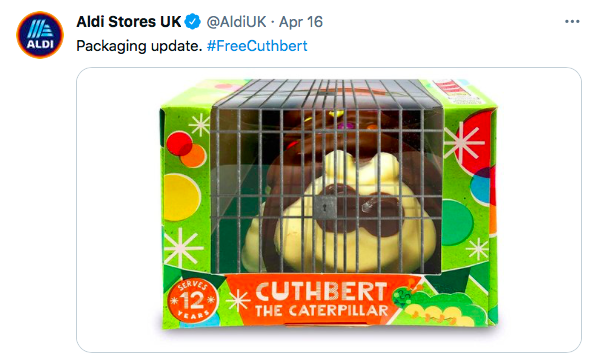 This image created and shared by the Aldi comms team received 110k likes, while the following tweet "Marks and Snitches more like. #FreeCuthbert" received 144k likes.
In a longer tweet, Aldi sought to explain that the return of Cuthbert, after it was removed from shelves back in February, was for a charitable fundraiser. Maintaining its humorous and conversational tone, Aldi tweeted "Hey @marksandspencer can Colin and Cuthbert be besties? We're bringing back a limited edition of Cuthbert and want to donate profits to charities including your partners @macmillancancer & ours @teenagecancer. Let's raise money for charity, not lawyers. #FreeCuthbert"
By positioning the move as a charitable cause for social good, Aldi put M&S in a difficult position as the lack of response could be interpreted as a rejection of the idea to 'raise money for charities, not lawyers.'
M&S joins the conversation
Marks & Spencer is present on social media, but its posts tend to be promotional and focus on announcing new products or activities in store. On 19 April M&S finally joined in the conversation and in an uncharacteristic move, shared a humorous tweet making light of the social media commentary.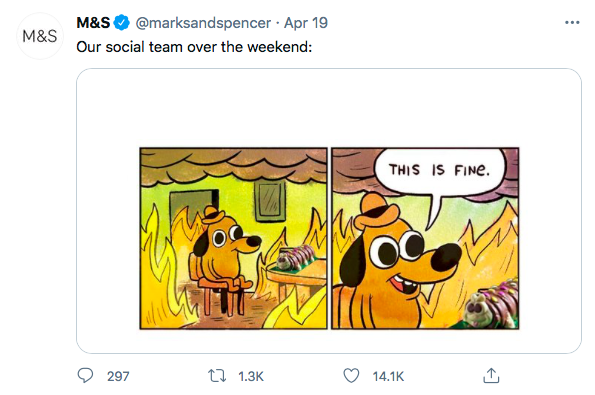 Colin the Caterpillar was launched 30 years ago and has remained relatively unchanged since being redesigned in 2004. Colin is largely involved in M&S's partnership with the Macmillan charity. Therefore Aldi's assertion that the brands should work alongside one another for charity rather than funding the lawsuit, pushed M&S to defend its reputational position.

The tweet aligned with the light-hearted tone of the social media conversation and established the organisation as a supporter of charities, while maintaining that Cuthbert is a copyright infringement.
The UK's supermarket caterpillars unite
It was clear that Aldi was closely monitoring the consumer response to the conversation, as users started to point out that Aldi was not the only supermarket to create a chocolate caterpillar cake.
After ignoring M&S' suggestion to create a #kevinthecarrotcake, Aldi tweeted Tesco, Sainsburys, Asda, Morrisons, Waitrose and Co-op UK, calling for the other chocolate caterpillar cakes to unite.
Waitrose was the first to respond with a message of support "Cecil is a caterpillar of the community…count us in!" Amy Morris, sustainability coordinator of international development at Waitrose & Partners, says, "Hats off to Aldi for their response – why not create a positive fundraising opportunity out of all the publicity."
Asda's comms team tweeted a message of support yesterday "Clyde thinks this has legs so we're in!" Both Morrisons and Co-op joined the conversation at the very beginning with a fun image and tweet but did not join the later call for the supermarket caterpillars to unite. Tesco and Sainsburys did not comment.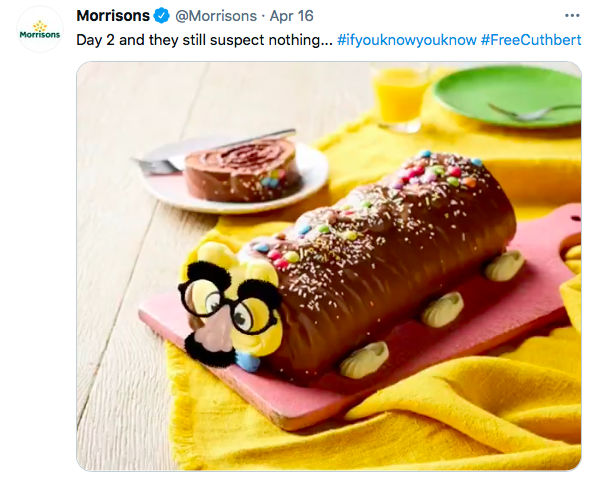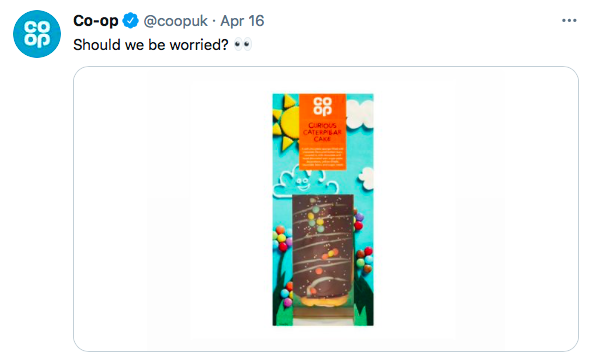 UK supermarkets opted for varying degrees of involvement in the caterpillar conversation, but the Colin vs. Cuthbert saga has made it clear that social media is a crucial and valuable tool in handling external comms.
While Aldi initially came under fire for infringement, its consistent and humorous communication with consumers, competing supermarkets and brands in other sectors created a wave of support.
By withholding from the conversation after posting a message "Colin won't be commenting, but says thank you for your support" on Instagram, Marks & Spencer opened the space for Aldi to control the narrative.
Helen Hays, social media consultant at Ginger Juice, says "Aldi's marketing and PR team are destroying M&S. This entire play out should be in marketing textbooks."
The legal battle is still ongoing but sales of chocolate caterpillar cakes are likely to rise following the widespread consumer awareness and engagement.
RECENT ARTICLES BY MOLLY JAMES