MONDAY
22 NOV 2021
12:20 PM
EVALUATION REPORT FINDS SOCIAL MEDIA DOMINATED COP26 COMMS
Leading data, insights and consulting company, Kantar, has released a media evaluation report analysing the COP26 coverage and comms strategies. Twitter was found to be the most prominent source of coverage, with Sky leading brand communications and Boris Johnson attracting the highest volume of COP26 related coverage from a single spokesperson.
Social media was the most dominant source of media coverage by a landslide, with 579k Twitter posts relating to the conference. BBC World was the most interactive media on Twitter, with 128 tweets, while Scottish Power had the highest growth in Twitter followers during with +58%. BBC News led on Facebook with 235 posts, while the Mail Online was the top news publication with 1,409 articles.
The most retweeted post from a third-party account during the conference came from South Korean girl group, BLACKPINK. Other prominent topics on social media included the unloading of sewage into the environment by Southern Water during the proceedings, and Boris Johnson not wearing a face mask while sat next to Sir David Attenborough.
Anna Salter, evaluation director at Kantar, says "Sustainability is firmly established within mainstream debate now and that creates opportunities for businesses and organisations to add their voice to the discussion. But it is a competitive landscape – even the most high-profile events can be crowded out by other voices and coverage of the climate protests outstripped reporting on any of the official COP26 messaging."
The report looked at daily trends through the duration of COP26 between 1 October and 12 November. Search trends on social media peaked on 1 November, the first day of the conference. Mainstream coverage peaked on day two with the top headline being, 'World leaders urged to act on climate change for sake of future generations.'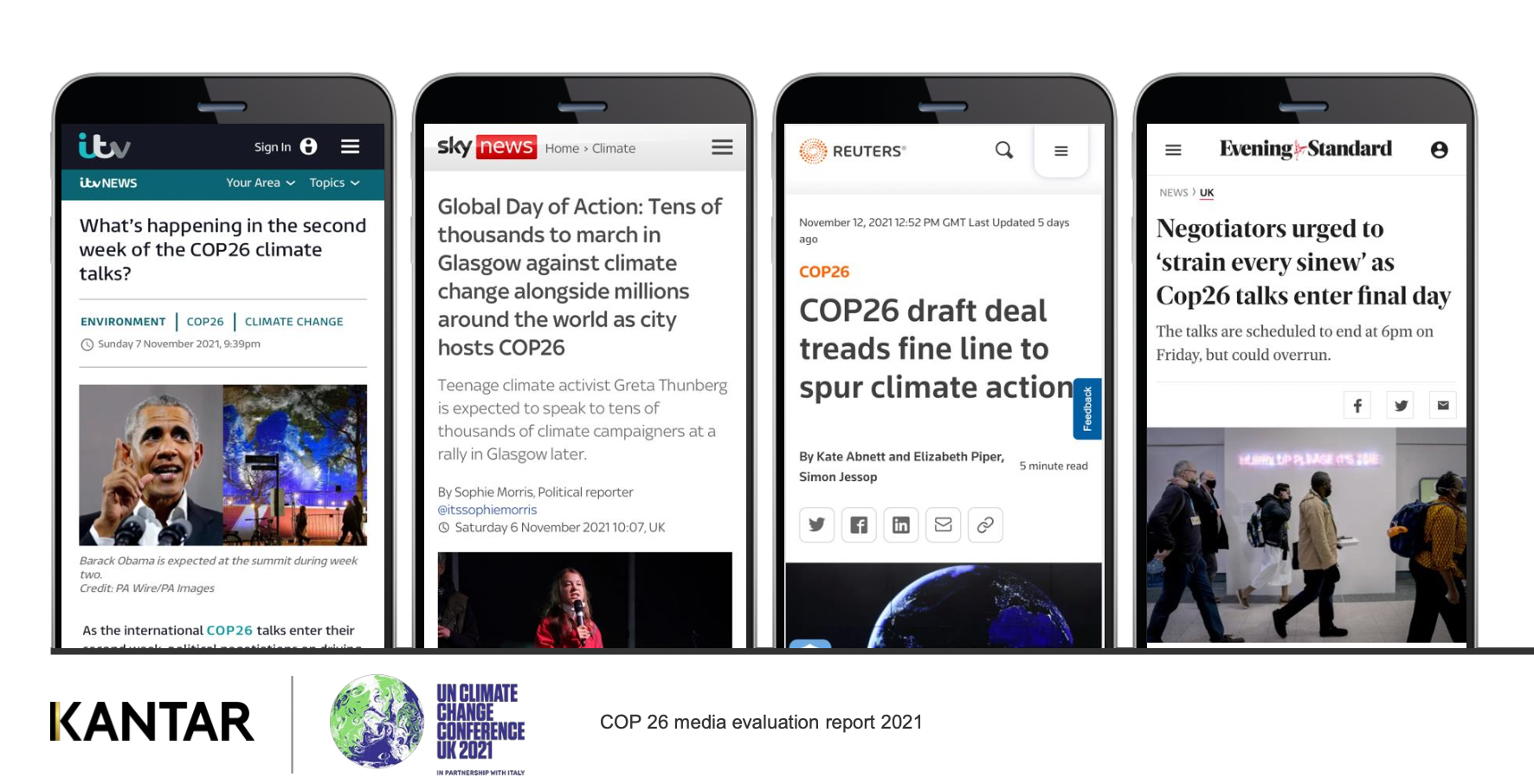 There was a second surge in mainstream coverage on 10 November, coinciding the positive declaration from US and China climate envoys, John Kerry and Xie Zhenhua, to collaboratively tackle the climate crisis.
Kantar identified that news of climate protests outweighed coverage of other topics. US President Barack Obama's speech also generated significant coverage, specifically his criticism of Russia and China's lack of urgency over climate change. Meanwhile, Great Thunberg criticised that conference as "a global north greenwash festival, a two-week long celebration of business as usual and blah blah blah."
"Despite the fact that Greta Thunberg wasn't officially part of the proceedings, she was quoted by more journalists in the mainstream media than Alok Sharma who hosted the event, proof that press tend to lean towards the less corporate, more dynamic voices to craft a better story," adds Salter.
Boris Johnson was the top spokesperson during the conference with over 19k mentions in media articles and nearly 24k social media posts. The coverage ranges from the importance of world leaders in helping negotiators push for a climate deal, to the forcing of financial institutions and listed firms to publish their net-zero plans.
Kantar analysed the impact of media coverage of principle brand partners during the conference. There were 15 partner brands featured throughout COP26, with Sky receiving the highest amount of coverage, followed by NatWest, who achieved the highest coverage volume for any single day on 11 November with 314 items.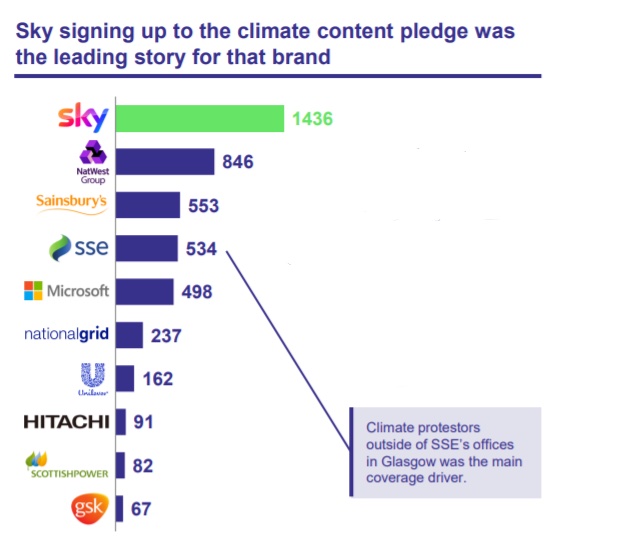 SSE received the fourth highest volume of coverage, however the narrative was largely negative with climate protests outside the main SSE offices in Glasgow being the main coverage driver.
Sky led in search trends, with the brand's signing of the climate content pledge being among its main coverage drivers. NatWest's coverage focused on its commitment to phase out funding for coal.
"Businesses can make themselves heard, even when talking about more nuanced aspects of the debate, but their contributions must be seen as authentic and as genuinely moving the dialogue on. Sky, the conference's largest principal partner, secured coverage primarily through its climate content pledge where it and other broadcasters agreed that climate denial content would no longer have a place on its channels. The move isn't something we've seen before, and its real-world implications clearly struck a chord," says Salter.
RECENT ARTICLES BY MOLLY JAMES