FRIDAY
23 JUL 2021
2:41 PM
LINKEDIN CAMPAIGN ADDRESSES IMPOSTER SYNDROME IN THE COMMS INDUSTRY
Creative agency, BHH Singapore, has launched a new campaign addressing Imposter Syndrome in the comms industry, after three out of four Singaporeans were found to experienced the phenomenon.
Since being founded in 2002, LinkedIn has become the go to platform for job updates and stories of professional achievement, but through celebrating professional successes, the platform also creates space for self-doubt and inadequacy among its users.
Imposter Syndrome is a psychological phenomenon in which an individual doubts their skills, talents or accomplishments. It is accompanied by internalised fear of being exposed as a fraud or imposter. Research shows that this can lead to high levels of fear, anxiety and stress, which will ultimately reduce job satisfaction, increase burnout and mental health issues if left unmanaged.
What was originally thought to have mainly affected women in leadership positions is now better understood to affect people of any age and background. A study by the Anatomy of Work Index has revealed that 74% of Singaporeans experience Imposter Syndrome, which is considerably higher than the global average of 62%.
This two-week long campaign by BHH Singapore features four interns from the 2021 Barn Programme, a diversity-led annual internship for the comms and advertising industry. The interns were invited to talk about their struggles with Imposter Syndrome.
Jenessa Ong, BBH Barn's Business Leadership intern, says, "LinkedIn is a platform where honest authentic conversations rarely take place. This campaign starts to chip away at the glossy, polished professional veneer of the platform, by talking about real insecurities that many of us struggle to put into words."
Since launching, the campaign the LinkedIn page 'Our Imposter Stories' has seen industry leaders share their own experiences, including Jamus Lim, MP at Sengkang GRC, Alvin Tan, minister of State at MTI and Leanne Robers, co-founder at She Loves Tech.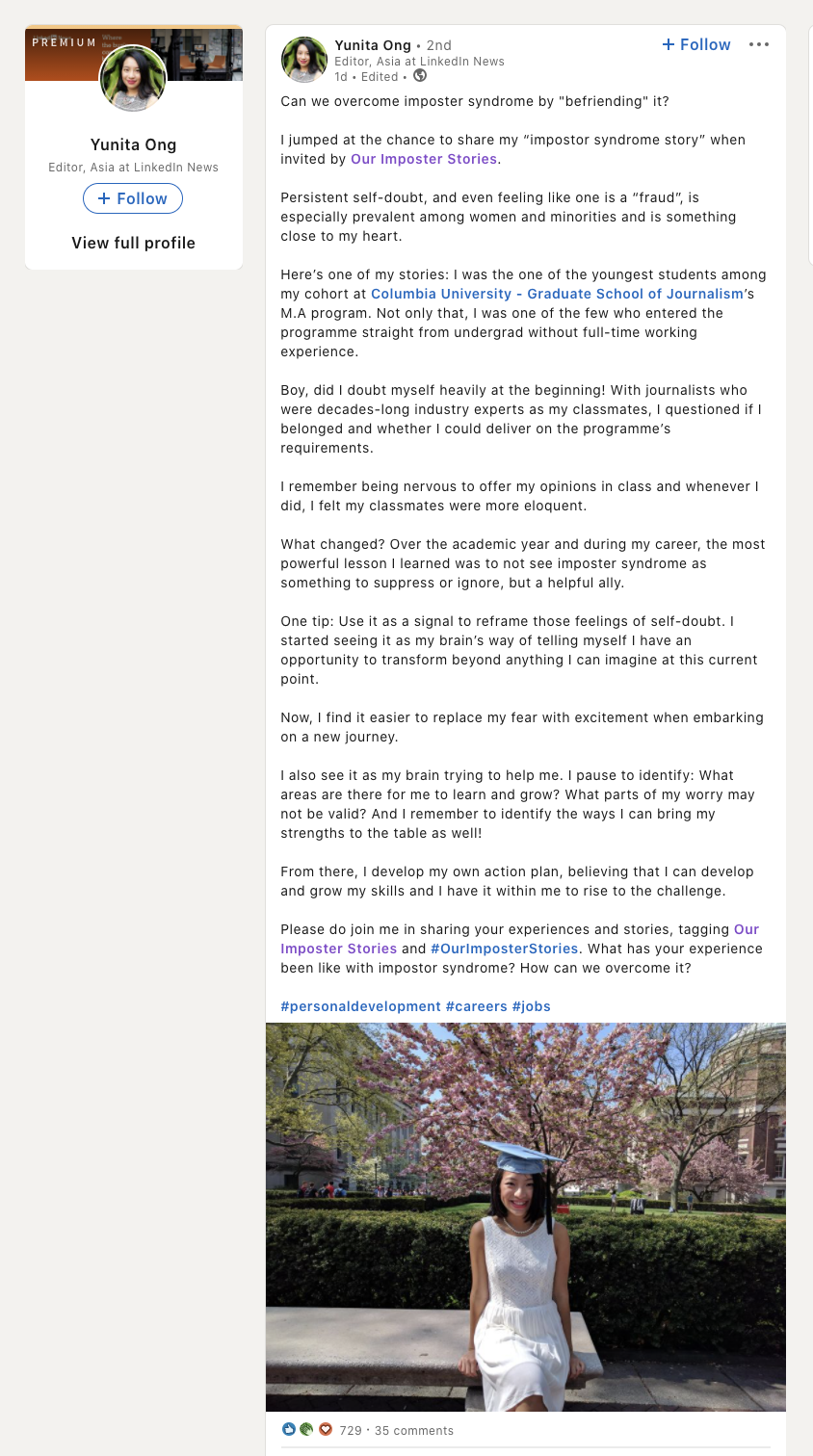 RECENT ARTICLES BY MOLLY JAMES