THURSDAY
2 SEP 2021
4:55 PM
SCOTLAND SET TO TRIAL A FOUR-DAY WORKING WEEK
Following in the footsteps of New Zealand and Iceland, Scotland has announced it will trial a four-day working week without a loss of pay. This follows research that shows 85% of people in Scotland agree a shorter working week would improve their wellbeing.
Businesses across the UK are planning for a return to the office after more than 18 months of remote and flexible working during the pandemic. People were forced by circumstance to work outside the traditional nine to five working hours, and for many a return to these regimented hours seems unlikely.
In April this year, the Scottish National Party pledged to pilot and explore the benefits of a four-day working week. The election manifesto read, "We will use the learning from this to consider a more general shift to a four-day working week as and when Scotland gains full control of employment rights."
Scotland based social enterprise, The Circle, introduced a four-day working week back in October 2020 as a result of the pandemic. But, after seeing significant benefits to employee mental health, The Circle says the four-day working week is here to stay.
Kate Pickering, marketing and communications officer at The Circle, says, "Having ran my own business and working all the hours, suffering burn out and having the guilt of 'not working hard enough' for over 11 years, moving into The Circle has been a breath of fresh air. This initiative forces you to think about your wellbeing and rest, putting you first."
The reduction in working hours aims to reduce hours by 20% and improve wellbeing without impacting the overall output of employees, meaning pay can remain the same. In order to be effective employees must ensure the remaining 80% of hours worked are productive and well-managed.
"There is a level of trust from your employer that makes you feel so valued and respected. It has been great for my mental health and I would encourage this way of working to create a better wellbeing economy," adds Pickering.
The Institute for Public Policy Research Scotland (IPPR) yesterday revealed that 85% of people polled in Scotland agree that a shorter working week would be good for their wellbeing. The IPPR also released a report proposing various ways Scottish officials should run the trial, including the expansion of sectors in which it will operate and the introduction of a Working Time Commission to make fair work recommendations on a sector-by-sector basis.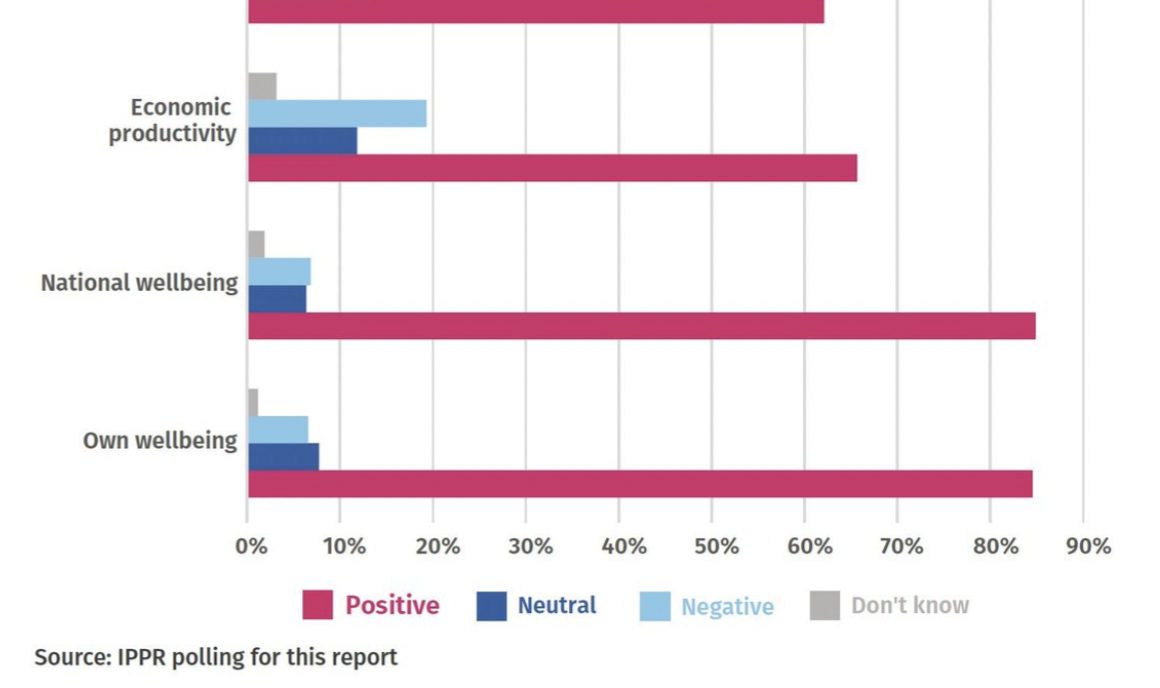 Nordic countries such as Sweden, Norway, Denmark and Finland already offer flexible working hours outside the traditional nine to five. Iceland has recently followed suit and is trialling a four-day working week in a four-year study across 2,500 workers. The study titled 'Going Public: Iceland's Journey to a Shorter Working Week' found that productivity and service provision remained the same or improved across most workplaces.
Further to this success, the study found worker wellbeing dramatically increased due to reduced stress and burn-out, and improved health and work-life balance. As a result, 86% of the country's workforce are now working shorter hours or have the right to do so.
Scotland based work-life balance expert, Susanne Grant says, "Giving employees more flexibility, such as the four- day week, to manage other aspects of their lives, will allow them to show up at the job more focused; making them more productive and delivering better quality work. This will, of course, benefit both the company as well as the employees."
In New Zealand, Unilever is one of several businesses trialling reduced working weeks. In March this year, it began a one-year trial allowing employees to reduce their hours from 40 to 32 per week. Nick Bangs, managing director of Unilever New Zealand said in a statement, "Our goal is to measure performance on output, not time."
In the UK, the BBC has reportedly reduced the number of working days for its journalists without impacting the overall number of hours, moving from five eight-hour days to four ten-hour days. Meanwhile, Unite the Union has opted to increase the pay of employees at the Clyde nuclear base, and instead of altering weekly hours it has instead offered additional annual leave.
The way governments and businesses implement flexible working hours will vary, but there is a clear global effort to trial different initiatives, and for many this begins with a four-day week.
"The way we view work is changing and we are at a pivotal point in history where we can raise the bar. It's time to normalise that people have a life beyond the desk. Because family is often the reason people show up in the first place. By recognising that people are real - valuable - people, we can reduce stress-related absence and turnover costs significantly," says Susanne Grant.
RECENT ARTICLES BY MOLLY JAMES