FRIDAY
10 FEB 2023
12:00 PM
SHOWCASE: BEST EMPLOYEE EXPERIENCE
Employees are the beating heart of any organisation and below we've highlighted some of the exceptional work being done to ensure your employees know they are valued. Take a look at some of the previous winners of the 'Best employee experience' at the Employer Brand Management Awards.
EQRx and Ph.Creative took home gold in 2022. 
To celebrate its trailblazing approach to pharmaceuticals and employer branding, EQRx worked with Ph.Creative on the #BeYouAtEQ campaign. Employees were asked to share stories personal to themselves, an act which saw them 'bare their souls and their smiles.' Those stories were translated into illustrations and a patchwork quilt that formed the company's 'Tapestory.'
This unique, idiosyncratic campaign not only engaged 90% of the company's global audience, but won over our judges as well. "A really original piece of work that fuses together physical and digital executions seamlessly," said one judge. Another added, "I like how the team maximised internal engagement content externally and I'm impressed with the concept and creative campaign. Tapestory is brilliant!"
Software AG were also recognised and celebrated by our judging panel with a bronze award. 
Following a rebrand and securing a big corporate investor Software AG were planning an unforgettable experience for their employees to share their exciting strategy for the new year, however the pandemic dealt a blow in December 2021 and Software AG had to pivot from a physical format to digital fast. The event  used a theme of blockbuster movies to focus its employer brand and encourage engagement across the business. Each department executive chose a movie that best supported the message they wanted to convey.  "A great strategy and campaign rollout to motivate employees and keep them engaged," said one judge. 
Our 2021 Gold winners were William Hill and WPA Pinfold
Many companies had been affected by the Covid-19 pandemic. Many still adopt a hybrid or flexible working practices as a result. But William Hill went one step further. Instead of simply letting flexible working happen, it undertook comprehensive research into what its employees wanted and expected out of the company.
WPA Pinfold facilitated 'The big conversation' to better understand both office-based and shop-based employees and their thoughts on work-life balance, corporate culture and productivity. The 'Balance, we all need it' positioning has built a high-trust culture that has empowered people to work in the way that suits them best. The change strategy took place in the midst of an incredible challenge which was seen as a bold and brave move from William Hill.
PwC Poland also took home an award in the same year. The silver award recognised their efforts following a shift in their employee demographic.
PwC Poland had recruited heavily, a move that has facilitated a massive average age reduction and increase in diversity. To integrate the company, it introduced a new employer brand that helped lead and engage employees across all demographics. With the 'People Agenda' project, they wanted to address the expectations of the best talents present on the PwC board and available on the labour market. A high level of employee involvement was achieved, exceeding goals and expectations.
Judges thought the thematic segmentation of PwC's staff was proof that employees were unable to contribute to the company's culture and direction.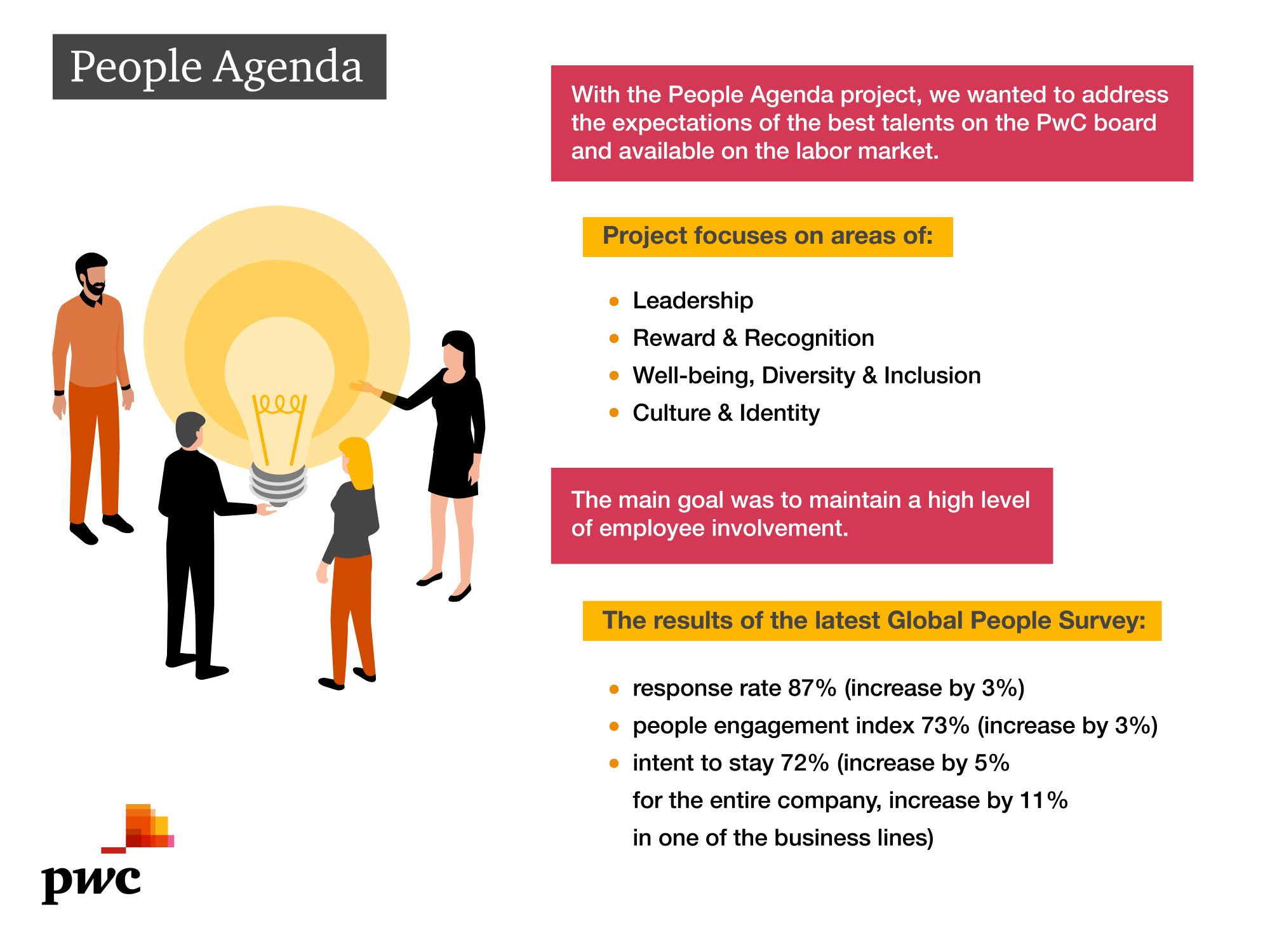 Back in 2019, The Netherlands' second largest health insurance company, VGZ took home Gold. 
VGZ asked Proof to share its new positioning, 'Heart for sensible healthcare' with its employees. Proof developed 'Our Heartbeat,' a rap performed by four rappers at different VGZ locations, inviting employees to send in their own sounds after the event to create VGZ's new heartbeat. The 'Our heartbeat' campaign was a unique way to tackle employee engagement that inspired pride and positive sentiment.
The launch was attended by 70% of employees, and the results of the campaign spoke for themselves, with eNPS rising by 28 points to +27. Engagement surveys show that 59% of VGZ employees now feel more proud of VGZ, 74% have a more positive image of VGZ and 97% feel enthusiastic about contributing to VGZ's success.
As one of our judges noted, "It's great to see this being brought to life and embedded internally before being externalised. The connection to the consumer outcome is compelling."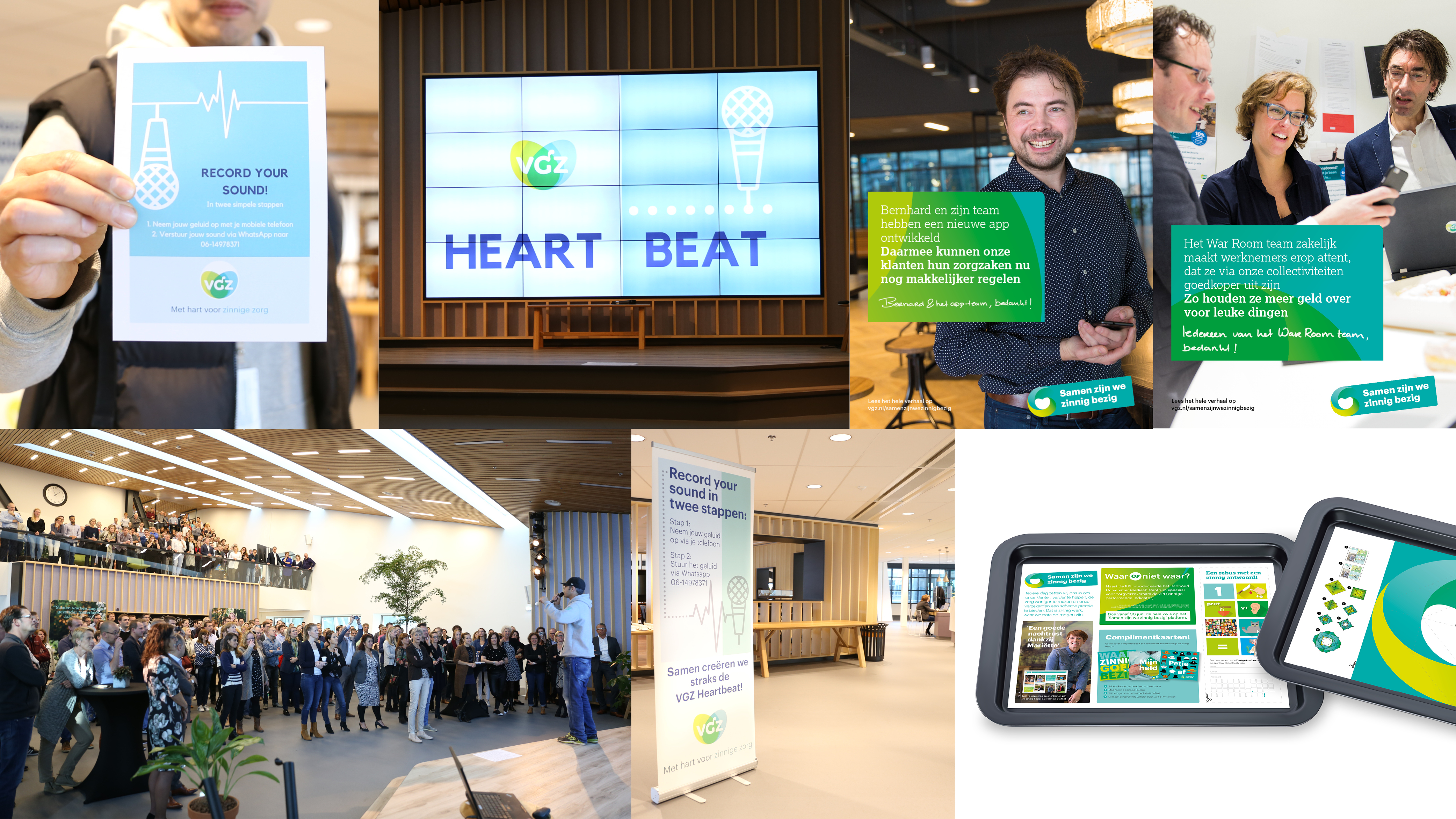 To read more about the winning projects in the Employer Brand Management Awards from a variety of categories, such as 'Best social media strategy', 'Best brand ambassador programme' and 'Best employee wellbeing initiative', you can do so by viewing the winners books from all the previous years.
The Employer Brand Management Awards is the must-win awards programme for any organisation keen to benchmark its employer brand activity. To find out more and to enter your work, visit the awards website.
RECENT ARTICLES BY COMMUNICATE MAGAZINE