TUESDAY
19 MAY 2020
2:23 PM
LEAVING LOCATION LOCKDOWN
As lockdown rules are eased throughout the U.K, video production companies can gather their grips, dust off their dollies and send their film crews back out and on location. With a two month hiatus, however, and with social distancing still in place will things be the same for corporate filmmakers?Will the next year provide a surfeit of sepia tones? Has humour gone and will tone of voice be forever changed? Or is this the opportunity filmmakers hope will unleash their clients' and their own creative spirits? Communicate magazine spoke to seven filming agencies for their insight on what the future of content production holds and how it survived the past few months.
Dominic Allen, DRPG
It's an irony most of us have witnessed first-hand: as the world has become socially distanced, the basic need for people to have human interactions has become even more prevalent. As communication specialists, the power of people connecting with each other is our bread and butter, and what Covid-19 has taught us (amongst many things) is that new boundaries only make us more creative and committed to 'outside the box' solutions.
Whilst our clients have found new ways to make their own content (via zoom recordings, selfie-vids and re-purposing of existing archive/stock footage), we've been getting busy with virtual broadcasts, remote directing and socially distanced studio filming. Not all of this is a perfect substitute to what went before, but with government guidelines slightly relaxing, things should get gradually easier for everyone in the industry. It's a case of adapting, preparing well and being mindful of the world we're living in right now.
Location filming - as we knew it - won't return overnight, but as we speak, we're getting back on the road (in our separate cars) to get back to what we do best. The very nature of a typical shoot involves multiple interactions, filming in public places and bits of kit being passed around and handled. So, as a team, we're being sensible and safety-conscious; disinfecting equipment before and after a shoot, carrying out strict recces to assess in advance what's achievable and safe, and nominating a person on-site whose primary job is to safety-coordinate and rule-abide.  
It's easy to get lost in the magic of filming, but there's a bigger picture now – far beyond the lens. But as clients re-surface with their filming briefs, we're ready and prepared to help them connect once again - and not just via their Zoom meetings. 
Jemma Peers, Top-B
Film is undoubtedly a keyway of communication right now, it's personal, it resonates with the audience and as we're learning, it can be filmed and created with social distancing in mind. Most people have explored the webcam recorded adverts that we're seeing everywhere, and we've already got a whole host of clients asking for something different and creative, however, we're as cautious as ever to get the message right. What we have realised during this pandemic, is that simple, emotive, and transparent is the best way to communicate. Hell for leather creative compositions aren't what people need to see right now and the current climate is screaming for personal and meaningful communication.
This, however, is a tough message to get right and we're working with a lot with clients on how to communicate effectively and positively, while being mindful of what people have personally been through over the last few months. It doesn't mean it's not possible, but it does mean we have to tread lightly and remember to be honest and considerate – with films not screaming a back to business message when the world certainly doesn't feel that way. Things are going to be different, but the message and the meaning is the same as always for Top Banana – create films that make people think, feel and do by connecting the head and the heart.
Nick Francis, Casual Films
Post-Coronavirus, video producers are left with a bit of a conundrum. There is still a fair bit of work that we can do remotely – animating, reediting, even podcasting. For our 'meat and gravy' most of us need people to point cameras at other people. It is certainly possible for a small crew to follow government guidance on keeping their distance and wearing facemasks but given the majority of our subjects usually work in exactly the office spaces that are probably going to remain empty for months even when we're all allowed to go back to work we're going to struggle for things to film.

That said, social media use has significantly increased during the pandemic. There are more people sitting at home consuming content than at any other time in human history. The fundamentals should be good for us. The problem is that it takes real courage on the behalf of the commissioner to produce work which may be challenging to get made and which may prove an expensive misstep at a time when few companies can afford to be profligate.

This highlights one of the main concerns our clients foresee post-crisis. How to persuade CEOs and FDs - who have seen that a Zoom recording produced almost for free was good enough - to put significant budget behind content production in the future. This is an argument that we have all been making for some time but which we will have to make with even more vigour in the coming months.

The Coronavirus Crisis has been described as the 'great accelerator' for the way that it has sped up many of the trends that have been happening anyway – the death of retail, the continued primacy of the Big Four tech firms, the prevalence of flexible working. Our industry is facing an acceleration of its own; the crisis is forcing us to refocus on the value that we are able to bring. The downward trend in the value of owning and operating 'the kit' continues, as does the rise of the importance of knowing how to turn business objectives into compelling, memorable and effective communications. That justification of the value of our content – whatever their format – is the field on which our future success as an industry will thrive or die.
Nick McAlpine, Bladonmore
Life in lockdown has seen us start adapting to the 'new normal', but not everything is different. While we may not have been behind the lens, we haven't called cut on filming during the crisis.
Good storytelling remains the same
Strip away colour grading, audio fixes – even the camera itself – the fundamentals of film are built on a clear narrative. This hasn't changed.  Nor has the way that content cuts through. Creativity has always been an inherent part of film –meaning we've had to think a little differently.
From setting up a studio in a CEO's home, to coaching clients to shoot B-roll remotely, our role has focused on direction – helping our new 'crew' on the ground get the right raw material. Back in the (home) studio, the editing and post-production process remains the same. Using archive footage or developing graphics and animations, we have continued to bring client's stories to life.
Lifting the limitations of lockdown
But returning to location will give filmmakers the freedom to develop more expressive, visual stories – anywhere in the world. Clients can focus on delivering their message, while access to proper equipment and an experienced crew will prove second-to-none – with the results clear to see.  Going forward, the tricks and techniques we've perfected during lockdown will benefit both clients and crews in a new, blended approach to film creation. Ultimately, film has a unique ability to bring people closer together at a time when we've never been further apart. It promotes the 'real voices' of an organisation, something that will only grow in importance in the coming months.
Paddy O'Sullivan, Malt Films
In these uncertain times, people want clarity and they want to talk about the future. From a communications point of view, this means messaging needs to be precise and clear. An audience will always appreciate creativity when consuming a message, but right now they don't want bells and whistles, they want to feel reassured that you have their interests at heart. Over the past few weeks, I've been asked what's the best way to convey a message right now and my advice has always been rooted in doing what's right for your brand. One client had, in the past, traditionally made high-end style films of the CEO against very grand backdrops, so we swapped the grand backdrop for the CEO's modest kitchen table and asked him to film it with his iPhone. The piece got a great response. Why? The content was, as always, clear and concise but the delivery mirrored the mood of its audience. This continues to show that communications, no matter the time, circumstance, or subject matter should never ignore the basic model of who, what, why, when and how.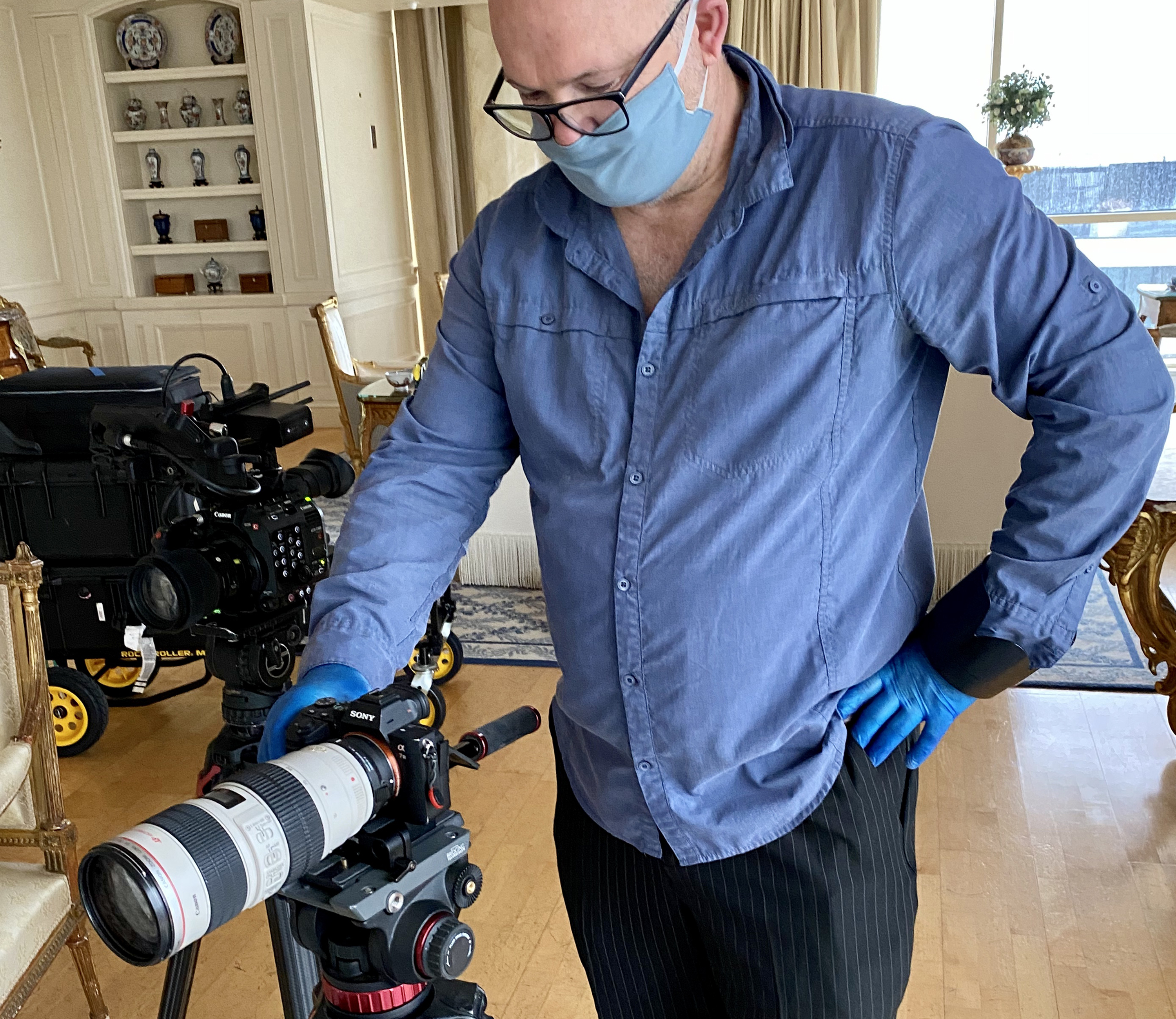 Picture : Embolden/CTN Group at work
Rebecca Denholm, Embolden/ CTN Group
Whilst many things have changed beyond recognition in recent months, the need for organisations to communicate compellingly, creatively and with absolute clarity has never been greater. Being able to produce film safely, securely and often remotely is a non-negotiable in the current environment.
Embolden/CTN group have primarily been using four different processes to create videos for our clients during lockdown: (1) user-generated content; (2) down-the-line Zoom or similar video recording; (3) on-location live-action shoots; and (4) studio filming with remote cameras. While our preference is always to film original content, i.e. options 3 and 4, the key to making any of these approaches work is a clear brief, understanding the audience and stringent pre-production and planning.
Clients are looking to professional producers for advice, an appraisal of the risks, and any added value they can leverage from the project. For example, UGC is a low-cost way of involving more contributors, but without professional post-production (using graphics, music, stock footage etc.), it will lack impact and authority.
Live-action and studio shooting reflects the confidence our clients have in us. Produced and edited professionally, it delivers high-quality content for our clients, representing who they are, and the core messages and values they wish to convey. As clients commission video, they will look to the companies that have a track record in operating safely and efficiently, and who can – above all – deliver without compromise creativity or health and safety. 
Simon Crofts, Big Button TV
Most of the creative industry has been hit incredibly hard by the pandemic lockdown, and it's not an overstatement to say that our sector changed forever (along with the rest of the world) 8 weeks ago. There were immediate changes, with the most significant being the cessation of almost all filming by professional film crews. The industry has adapted incredibly well over the last couple of months though, with new techniques and a shift in the approach to content allowing things to get back to something resembling normality.
With a gradual lifting of the lockdown though, how will things change over the next few weeks and months? At Big Button we've sent crews out during the lockdown, but under extremely strict rules based on guidance from the government and industry. Easing the lockdown isn't going to change that, or mean an immediate return to business as usual. Although we can continue to send crews out to film, many businesses are uncomfortable having third parties in their offices - or even opening their offices at all.
The lockdown has created an opportunity to produce content that's more creative than ever. Whether it's developing a way to send a crew to a location safely, or a whole new approach to a project that negates the need for a crew altogether – perversely it's been an exciting time for us. As the lockdown eases, the industry will adapt to exploit the opportunities each stage offers to deliver engaging content for clients. One thing is certain though - video production has changed forever… and perhaps for the better.
Thank you to our contributors: Dominic Allen director and scriptwriter DRPG, Jemma Peers commercial director Top-B , Nick McAlpine  executive producer Bladonmore, Paddy O'Sullivan executive producer Malt Films, Rebecca Denholm Rebecca Denholm head of film Embolden, Simon Crofts client service director Big Button
RECENT ARTICLES BY ELETTRA SCRIVO